Here you will find all of our latest news and goings on.
No Account Needed To Shop Here! 31 Mar 2018
Good News! I have taken the view to remove the need for new customers to make an account with us. This means that new and existing customers do not need to sign in to our site anymore, just fill your basket with the items you need and press the check out button where you will be taken off site to PayPal to complete your order.
This we hope will help you speed up time on our site and be on your way faster, not that we mind you hanging around our site!. Also, as we will not be collecting or storeing any of your details, this should bring us inline ready for GDPR.
---
---
We havs just been added to the Bristish Forces Discount website, doing our little bit to support.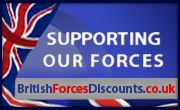 ---
Lower Postage Prices. 29 May 2012
We have introduced a tiered pricing method for our delivery charges. This we hope will offer you value for money. Our rate are as follows:-
£0.01 to £1.99 will cost £2.00
£2.00 to £4.99 will cost £3.25
£5.00 to £9.99 will cost £ 4.75
£10.00 to £19.99 will cost £5.25
£20.00 to £39.99 will cost £ 6.50
£40.00 to £59.99 will cost £ 7.00
£60.00 to £74.99 will cost £ 7.50
Orders of £75.00 and over will be free delivery to Uk mainland only.
---
E-mail Newsletter, Sign Up. 4 Nov 2010
We have finally added what we think is a great new service. Sign up with your email address and we will keep you up to date with all the latest news, Product Promo's & best of all, voucher codes, not only from us but from our competitors too, because you love to shop.
---
New Tools Added From Silverline 15 Sep 2010
New tools added to our ever growing range, brands like Silverline, GMC & Triton. All these names are very good quality at a very reasonable price. The Silverline range has over 4000 tools for the Pro DIYer.
---
Site Basket & Payments. 20 April 2010
We have now updated our payment process to Sage Pay & Verified By Visa, in order to give you the best possible level of security. Once you have added to your basket and pressed the Checkout Button, you will have the option to pay by Paypal or use our preferred method of Sage Pay. Both options will take you to secured pages where you fulfil your order off site so you can be sure that we do not transmit your private details across the internet so your details remain very safe. For more info on our site security please see our Customer Help page.
---
New Site Design. 7 February 2010
About time some of you may say, well we agree. We do hope you like this new easy on the eye plain look. All the pages are not complete as of yet so you may still come across the old design, don't worry all the products are the same. I have been re-categorising the products as we have just added 10,000 new items to the database.
To get a good idea of the new section categories please have a look at the garden section from the left site navigation. As you can see lots of new items and now we have spares too.
You will see on the new look pages there is a site basket in the top right corner on every page. This will be active we hope in about three week from the entry date. This will enable you to add all you items to our site cart then on checkout give you some payment option of Sage Pay or PayPal. At the moment we only have a PayPal cart so this is still the same for the time being.
We do like to have your input on changes, thing you like to see or errors, so please do take the time to send any comments you like as we do read them all. Maybe you would like to see a certain feature, please do tell us.
---
Shop Wiki Approval. 30 June 2009
We have just been awarded Shop Wiki certification, which means that we are now giving you the customer more confidence and security when you purchase from us. This is part of our on going programme to ensure we give you value for money and the piece of mind that you are dealing with a reputable business with an active policy on consumer confidence.
---
More New Site Features. 26 October 2008
We have added
Recommend to a friend. We are very excited about adding this new feature to our pages. Now we do hope that you will make the most of this and help spread a good word about us.
---
A New Site Features. 17 September 2008
We have been working very hard at Toolvolt to and make our web site more user friendly. So we have added and are still adding, Add to Basket buttons along with the item price to all of our category pages. This is to help speed up your browsing and you don't have to drill right down through the items. >
---
A New Supplier. 23 May 2007
Here at Toolvolt.co.uk we are very please to have a new supplier on board
This brand is very well known throughout the plumbing and heating industry. We will be listing the Monument Brand on it's very own page this week end. Check back here for the link.
---
Extra Products. 22 May 2007
---
Price Increase, Sorry. 02 March 2007
With regret we have had to increase our standard rate postage cost from £5.75 to £6.75 along with our minimum purchase value for free shipping. This was £25.00 and now will be £35.00
These increases are a direct result of transport charges, raw materials and packaging costs, have all risen over the last two years. We have absorbed the cost of this for quite some time as to promote good prices. We still believe that we are one of the cheapest tool suppliers on the net with the lowest minimum order value for free shipping.
But with that said, we have also reduced many prices on the products across most categories.
---
Payment Option.
Would you like another payment option? Well we have one. You can now call us on our lo-call rate number (shown Above) and make your order over the phone. Find out More...
---
Web Design. 05 Feb.... 2007
Toolvolt .co.uk as you can see has been updated and changed slightly, for the better we hope. This new design will be applied to all of our pages over the next few weeks making our site faster and easier to navigate to find those all important items. The biggest change for us and hopefully you, is the inclusion of a search box, this is thanks to Google. The effect to you may result in some pages being offline for a matter hours and in the case of our bigger sections, maybe a day or two.
The biggest problem we have is our search results page, which as you know are shown on the standard Google results page format. The Googlebot only crawls web site so many times a month, so with this big design change, the results page may show the new design and if not, will show the old one. All of the product content and prices will remain the same low price as always.
We ask you kindly to bear with us through our design transition and we still look forward to receiving your all important comments about our site or anything for that matter.
Do you have a comment about are site? Or would you like to leave a product review.
---
Coming Soon.
We will be selling Bosch Blue Professional Power Tools from January 2007 If you like a quote on a Bosch tool please contact us and we will be more than happy to supply you with a quote.
---
The SafeBuy Assurance Scheme.
Good news to all of our customers, we are now a member of The SafeBuy Assurance Scheme. Which means that you have added security for your online payments which are all completed through PayPal. Click on any of the Safebuy logo's and this will take you to the SafeBuy web site
As we are now members of the the safebuy scheme, we are now in the process of updating all of our existing pages to include the new plus additional info, and for ease of use, a checkout button to all pages along with a contact link at the foot of all product pages.
---